Parasaurolophus

Classification

Kingdom
Animalia
Phylum
Chordata
Superclass
Tetrapoda
Class
Reptilia
Subclass
Diapsida
Superorder
Dinosauria
Order
Ornithischia
Suborder
Ornithopoda
Superfamily
Hadrosauroidea
Family
Hadrosauridae
Subfamily
Lambeosaurinae
Genus
Parasaurolophus
1st Species
Parasaurolophus walkeri
2nd Species
Parasaurolophus tubicen
3rd Species
Parasaurolophus cyrtocristatus
4th Species
Parasaurolophus jiayinensis

Other attributes

Time Range
76.5-66 mya
Location
Canada, United States of America, China
Name Meaning
Near-crested reptile
Physical Dimensions
8.2 meters long for P.walkeri; 9.5 meters long for P.tubicen; 8 meters long for P.cyrtocristatus; 10.1 meters long for P.jiayinensis
Weight
3 tonnes for P.walkeri and P.cyrtocristatus; 3.5 tonnes for P.tubicen; 5 tonnes for P.jiayinensis
Dietary Classification
Herbivore
Parasaurolophus is a hadrosaurid ornithopod dinosaur from the Late Cretaceous of Canada, the United States of America, and China. It was named in 1922 by William Parks. It is a decently famous ornithopod dinosaur, noted for its large head crest.
Physiology
Edit
Parasaurolophus was a semi-quadrupedal dinosaur with a bulky body, long forelimbs ending in hoof-like hands, long, muscular hindlimbs, a moderately long tail, a thick neck, and a short head with a duck-like beak. Perhaps the most defining trait of Parasaurolophus was the long, curved crest on the top of its head. Its body would have been covered in scaly skin, with a row of crocodile-like scutes running down its back.
Parasaurolophus was an herbivore, feeding on leaves, twigs, pinecones, and pine needles. Its wide beak was used to clamp on branches and strip off all their leaves, while the many teeth in the back of its mouth would grind together, processing the leaves.
The use of the large crest atop Parasaurolophus' head has been open to debate for a long time, with many theories that emerged including being used as a snorkel for breathing underwater, as well as an air reservoir (also for breathing underwater), a horn used for intraspecific combat, a storage of salt glands, and a guard for holding up branches while it grazed; today, the most widely accepted theory is that it was used as a resonating chamber used for amplifying its calls. This theory became fact when a team of scientists used a Parasaurolophus skull, a hospital CT scan, and a computerized model to find what sounds the hadrosaur made; these scientists found out that it emitted a low-pitched, resonating bellow, not unlike the deep, powerful sound a trombone produces whenever it is blown. As well as this, Parasaurolophus regularly walked on all four legs, but was able to stand and quickly run on two legs when it needed to; this allowed it to feed at different heights, as well as to quickly escape from predators such as tyrannosaurs. In terms of the former, it had a shorter snout than other hadrosaurs like Edmontosaurus, which allowed it to browse more selectively.
In popular culture
Edit
Parasaurolophus was first introduced to the public in the Rite of Spring segment of the 1940 Disney musical movie, Fantasia. Since then, it has gained a decent amount of popularity, and has appeared in many pieces of media such as The Land Before Time, Jurassic Park, and Disney's Dinosaur. With the very former being the exception, all of those pieces of media show it in one of two ways; as a background animal used to improve the atmosphere, or as an extremely passive, mobile hunk of meat that every carnivore, like the imposing Tyrannosaurus, the powerful Deinosuchus, and even the lowly Velociraptor, can easily kill and eat.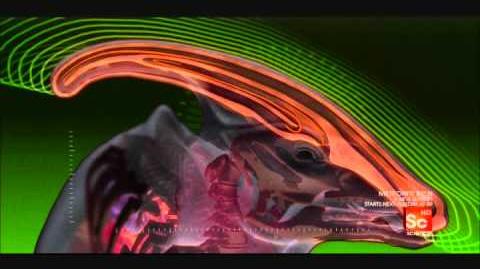 Community content is available under
CC-BY-SA
unless otherwise noted.